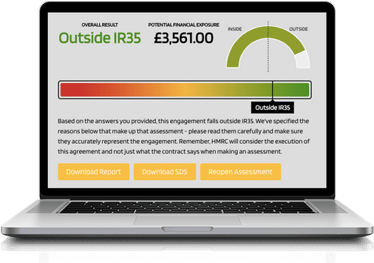 RED10 is excited to announce that in 2021 we can protect our clients and contractors with the Kingsbridge IR35 Status tool.
This tool offers a hybrid IR35 Status Tool that puts the best experience and support into one place for both clients and contractors.
With this tool, clients can ensure transparency before and during engaging contractors. The Kingsbridge IR35 Status tool can run tests to obtain an instant IR35 report that outlines the strengths and weaknesses of all contractors engagements. Also, it protects the supply chain, ensuring that all IR35 reform obligations are met while providing separate logins for client and contractor.
Jenni Bates, RED10's CFO said "We are thrilled to partner with Kingsbridge to provide certainty to our clients and contractors. With this tool, RED10 has ensured that we can engage with our contractors on Inside and Outside IR35 contracts, ensuring full protection against the determination for the supply chain. The Kingsbridge Status tool has been developed by Andy Vessey, Head of Tax at Kingsbridge, who has defended over 500 tax investigations, most of which he has won. You can rest assured that the logic driving it is based on key factors from real-life IR35 enquiry cases."
Shaun McKenzie, RED10's Director of Client Services, added "Kingsbridge is a specialist insurance provider for contractors, that offers cost-effective and comprehensive insurance to the contractors' community. That was one more reason to partner with Kingsbridge, as we believe in their deep-rooted knowledge."